Dental Implants
Missing teeth can cause feelings of self-consciousness and can be detrimental to your oral health.
At The Smile Center, we place and restore dental implants to provide patients with an opportunity to rebuild their smiles and oral health.
So why should you opt for an implant-supported restoration at our Virginia Beach, VA, practice?
Restorations That Look,
Feel, and Function Like Natural Teeth
Built to Last
When placed properly and well cared for, dental implants can last 40 years or more. Dr. Scott Parr and Dr. Tara Frey offer implant-supported restorations that can provide a lifetime of benefits.
Improved Oral Health
Dental implants are the only treatment for missing teeth that protect your jawbone against resorption. When your jawbone shrinks after tooth loss, it can affect the stability of other teeth and cause a sunken, aged appearance.
Unrivaled Strength
During the healing process, implants become fused with surrounding tissue. This provides an unparalleled level of support and stability for restorations of any size, especially full dentures.
Dental Implants Have
a Dependable Record of Success
Dental Implants Can
Restore Your Oral Health
Dental implants are primarily used to replace missing teeth. However, in some cases, Dr. Parr and Dr. Frey will recommend implants for teeth which cannot be saved due to decay, trauma, or gum disease.
Often, they can even place implants at the same time teeth are extracted to reduce the chance of jawbone atrophy and allow you to experience completely restored function more quickly.
Before Beginning Dental Implant Treatment,
Our Dentists Assess:
Jawbone Density
Since dental implants rely on the surrounding bone for support, it is important you have sufficient tissue in your jaw. For some patients, a bone graft can restore implant candidacy.
Gum Disease
Healthy gums are another important requirement for successful implant treatment. Dr. Parr and Dr. Frey can provide necessary
treatment for gum disease
before approving you for implant surgery.
Overall Health
Medical conditions, including uncontrolled diabetes and autoimmune disorders, can increase your risk of complications after surgery and prolong the healing process.
Fortunately,
there are several treatments and techniques available
to help patients
overcome potential candidacy restrictions
. Most patients qualify for dental implant treatment with appropriate measures, regardless of their current oral or overall health. To learn how you can become a good candidate for dental implants,
schedule a consultation
at our dental office.
We Precisely Plan Treatment
to Achieve Optimal Results
One of the philosophies Dr. Parr and Dr. Frey utilize when providing dental implants is that each patient has their own unique dental makeup and therefore requires a unique treatment approach. The necessary time and attention will be dedicated during your consultation at our Virginia Beach office to ensure that your care plan meets your needs and reflects any personal requests you may have.
Your Comfort
Is Our Top Priority
At The Smile Center, we understand many patients are concerned about discomfort so we take several measures to ensure each visit is relaxing and pain-free.
Advanced Technology
Can Also Improve Your Outcome
At The Smile Center, we use state-of-the-art technology at every stage of your implant treatment for improved accuracy and efficacy. Using our computed tomography (CT) scanner, we can visualize your jaw and the supporting structures of any remaining teeth to more precisely plan and carry out your surgery.
A Typical Timeline
Takes Several Months to Complete
Discomfort Is Common
But Should Dissipate Quickly
After your implant placement procedure, it is common to experience minor bleeding, swelling, and discomfort. Ice packs, pain medication, and keeping your head elevated can all help manage these post-operative side effects.
Initial recovery typically takes a few days. However, your implants may need four to six months to fully integrate with your jaw. Dr. Parr and Dr. Frey can monitor your recovery and determine when your implants are ready for final restoration.
We Can Provide
Dramatic Transformations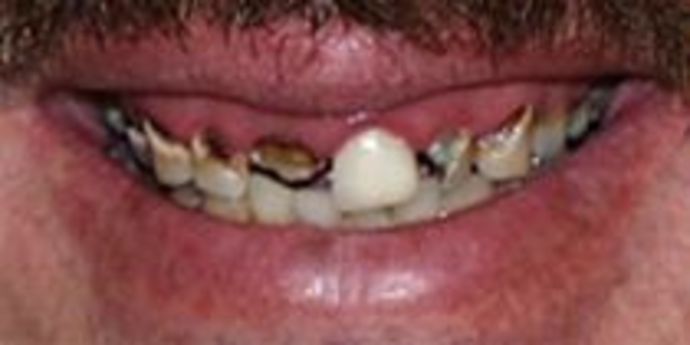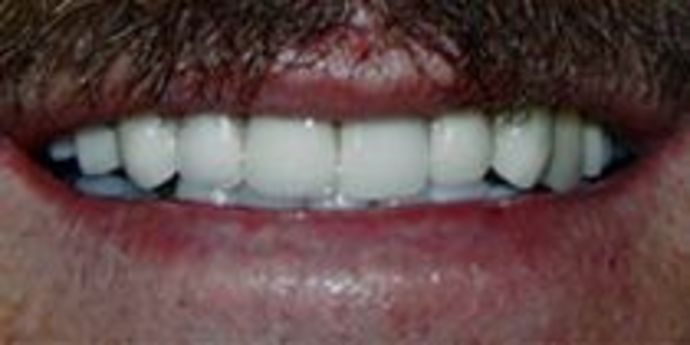 Dental Implants Are
Simple to Care for
Once your implant treatment is complete, you can brush and floss the restorations just like your natural teeth. You will also need to attend regular appointments for cleanings and exams at our Virginia Beach office.
With proper care and regular check-ups, dental implants can last a lifetime.
Lives up to the Top Star Rating
"I love the staff at The Smile Center! Having a very poor experience at the dentist many years ago, I was always over anxious to make dental appointments; I had to get a dental implant and searched the internet for references. The Smile Center had excellent reviews, and the staff definitely lives up to the top star rating!"
Lydia B.
The Cost of Treatment
Is Unique to Your Needs
The cost of replacing missing teeth with dental implants can vary dramatically based on your specific goals, needs, and preferences.
During your initial consultation, we can discuss your treatment plan with you and help you understand the different factors that can affect the cost of restoring your smile.
The Extent of Treatment
Plays a Major Role in Your Final Cost
Number of Implants
The number of teeth you need to replace will determine how many implants you need. For example, replacing a single tooth with an implant-supported crown costs less than restoring a full arch with a denture.
Type of Restoration
The size of your restoration, as well as the materials used to craft it, also influence the overall cost of your dental implants.
Prepartory Procedures
If you need preparatory treatments before implant placement, such as a bone graft or treatment for gum disease, these procedures can raise your final costs.
Insurance and Financing
Can Help You Pay for Treatment
Insurance
Although most implant treatments are not covered by insurance, our insurance coordinator can help you determine your coverage for qualifying procedures.
Third-Party Financing
We work with a variety of third-party lenders offering flexible, low-interest repayment options for patients with out-of-pocket implant costs.

While Implants Are Highly Recommended,
You Do Have Other Options
For patients who do not qualify for dental implants or who are not ready to undergo surgery, Dr. Parr and Dr. Frey offer several alternatives.
In most cases, alternatives to dental implants do not offer the same level of benefits. However, they can fill gaps in your smile to restore basic function and appearance.
We Offer Several
Methods of Tooth Replacement
Dental Bridges
If you are missing one to three consecutive teeth, a dental bridge can fill the gaps in your smile for improved function. However, placing a traditional bridge requires Dr. Parr or Dr. Frey to remove healthy tissue from the teeth on either side of the gap, which can affect their long-term health.
Traditional Dentures
For patients missing a large number of teeth, we offer both partial and full traditional dentures. While these options are effective at replacing teeth, they do not offer the stability or health benefits of an implant-supported denture.
Before Your Consultation, Consider:
The Aesthetic Benefits: As a cosmetic-centered practice, the Smile Center approaches each procedure with a keen aesthetic eye. Missing teeth can make you smile look aged and incomplete; replacing them with dental implants gives you a second chance to show off a gorgeous grin. With a newly built smile, you can express yourself with confidence and make a great first impression.

The Oral Health Benefits: As soon as you lose a tooth, your jawbone and soft-tissue begin to deteriorate. If left untreated, missing teeth can create hiding places for disease- and decay-causing bacteria. The longer you wait to replace your teeth, the more difficult it becomes to place dental implants. As soon as we've rebuilt your smile, your mouth full of teeth will look, function, and feel like a natural smile. Speaking and chewing naturally will be easy, and when well maintained, your teeth can last a lifetime.