Dentures
Loose and missing teeth can affect your oral health as well as your lifestyle, making normal daily activities more difficult.
Custom-crafted dentures from our team at The Smile Center can provide an optimal solution to extensive tooth loss.
So why should you invest in dentures?
Dentures Can Make Daily Life
Easier and More Comfortable
Turn Back the Clock
Dr. Scott Parr and Dr. Tara Frey design dentures which complement the unique shape of our patients' faces. In many cases, dentures can improve the appearance of puckered lips and sunken cheeks for more youthful features.
Improve Your Quality of Life
Dentures can restore your ability to speak properly, eat comfortably, and smile confidently. By renewing the function of your smile, you can enjoy an overall better quality of life.
Benefit from Implants
At The Smile Center, we offer qualifying patients implant-supported dentures which stay firmly in place and can prevent your jawbone from shrinking due to tooth loss.
If You Have Missing Teeth,
You Are Not Alone
Don't Have Dental Insurance?
That's Not a Problem.
We believe every patient deserves the highest standards of care, even those without dental insurance. Our Smiles for Life Plan provides several important services for just a small monthly fee so you can receive treatment when you need it most.
About Dentures
Maintaining a complete set of reliable teeth is clearly important to your health and emotional well-being. Missing teeth affect your appearance and dietary choices, and can also hinder your ability to enunciate words clearly. If you are struggling with loose and missing teeth or a failing denture appliance, new custom dentures can make a marked difference in your quality of life.
Customized to the individual needs of every patient, new dentures look and feel more natural than ever before. Durable and stain resistant, they are designed to fit and flatter your anatomy and skin tone. These prosthetic teeth restore structure to the jawline, filling in sunken areas to create more youthful contour.
While partial dentures (dental bridges) are designed to replace just a few teeth, full dentures can replace a row or complete set of teeth. At The Smile Center, we provide both traditional and implant-supported dentures. The right choice for you depends upon many factors, including your age, oral health status, and budget. If you have a current denture appliance that is broken or failing, we offer repair services or can alter the dentures to fit dental implants.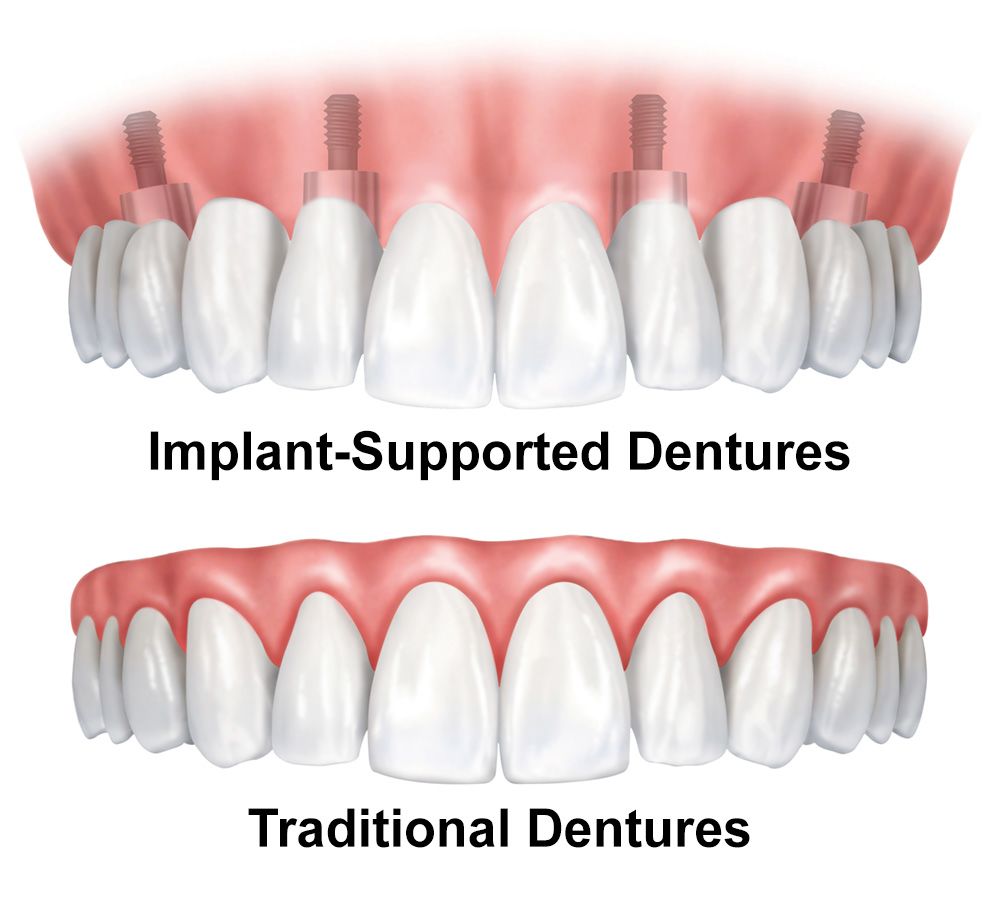 Traditional Dentures
A traditional denture appliance includes a flesh-colored acrylic base, which fits over your gums, and artificial teeth. Using the latest digital technologies, Dr. Parr and Dr. Frey create durable, custom dentures to precisely fit the contours of your mouth. When their design is complete, the computerized blueprint is delivered to our partner lab for fabrication, and your new dentures are ready in five to seven days.
Dr. Parr and Dr. Frey can perform any needed extractions, providing relaxation techniques and anesthetic options to keep you comfortable for the procedure. Depending on the individual case, you may receive an immediate full denture placement at that point, or may return for fitting after your gums are healed. If your teeth are placed immediately, you will return for a fit adjustment in a few months. Because the gums naturally change shape over time, periodic adjustments to these dentures are necessary.
Implant-Dentures
Implant dentures are an ideal teeth replacement method for many patients, providing optimal strength and stability. These dentures attach to titanium implants placed in the jaw bone, which act as artificial roots for your new teeth. Halting the jaw bone loss that occurs with tooth loss, implant dentures are a permanent solution, eliminating the necessity of ongoing fit adjustments.
Dr. Parr places and restores dental implants in coordination with Dr. Frey at The Smile Center. In addition, they offer the cost-effective option of converting your traditional dentures into an implant-supported appliance.