Implant-Supported Dentures
While many patients want to rebuild their smile after widespread tooth loss, traditional dentures are often uncomfortable and unstable.
At The Smile Center, we offer implant-supported dentures which provide an unparalleled level of stability and protect your oral health.
What exactly makes implant-supported dentures unique?
Implant-Supported Dentures
Offer Unrivaled Benefits
Enjoy a Stable Result
Traditional dentures, while effective at replacing missing teeth, tend to slip out of place at inconvenient times. Implant-supported dentures are anchored directly into the jaw for improved stability and comfort.
Speak and Eat Comfortably
Since implant-supported dentures are so secure, you can feel confident in your ability to enunciate properly and enjoy a full range of foods without discomfort or limitations.
Protect Your Jawbone
After tooth loss, it is common for the jawbone to deteriorate. Dental implants act as artificial tooth roots, preventing bone recession and keeping your jaw strong and healthy.
Implant-Supported Dentures Can Be Life-Changing
The Smile Center in Virginia Beach, VA, provides full-service restorative dentistry for patients, including dental implants placement and custom-crafted implant dentures. In some cases, Drs. Scott Parr and Tara Frey can convert your existing denture appliance to work with your new dental implants.
At The Smile Center, we understand the importance of a beautifully complete smile. We offer financing options to help you treat yourself to implant dentures, a choice that can be life-changing. To schedule your personal appointment with Dr. Parr or Dr. Frey, please contact us today.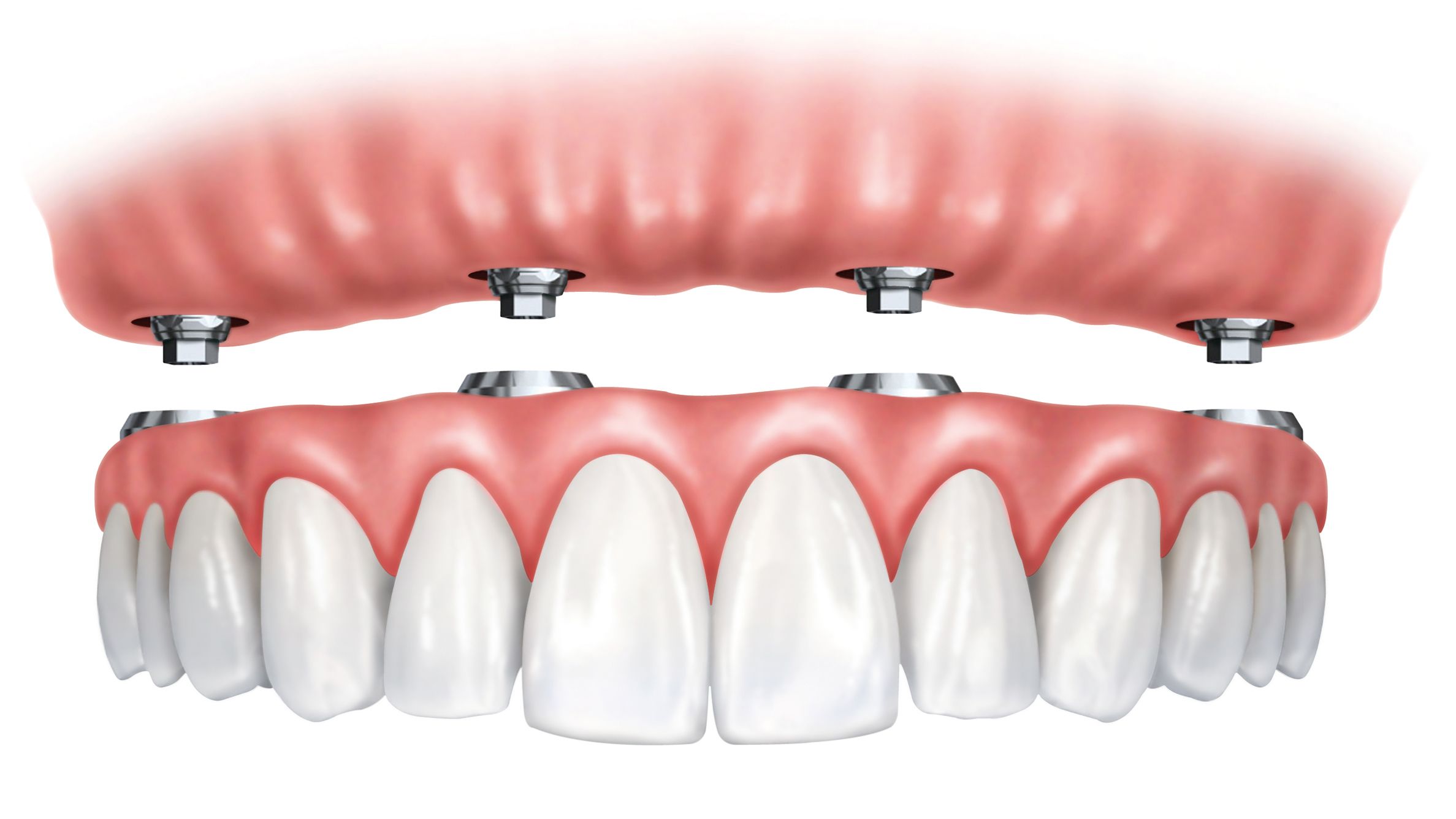 About Implant-Supported Dentures
Implant dentures are widely considered to be an ideal solution for extensive tooth loss. When dental implants are surgically placed in the jaw, they fuse to the bone to form a sturdy, structural base. These strong titanium roots securely attach to teeth restorations, providing an experience remarkably similar to natural teeth.
Implant-supported dentures are a permanent, stable replacement solution for a full row or complete set of teeth. The benefits of these dentures include:
Increased Comfort and Stability – Your dentures will never slip out of place or feel loose, so you can enjoy a healthy, varied diet without concern. Fitting securely against your gum line, food particles cannot become trapped and irritate tissue.
Beautiful Aesthetics – With an ultra-snug fit, implant-retained dentures provides a life-like appearance, often indistinguishable from natural teeth.
Oral Health –Since dental implants act as substitute roots, jaw bone loss is significantly reduced, eliminating the need for dentures to be refitted and replaced. Bone resorption occurs naturally with tooth loss, causing shrinking of the oral structure, but implants help avoid this problem.
Implant Dentures at The Smile Center
In many cases, Dr. Parr can perform your implants placement surgery and fit your new teeth on the same day. The first step in the process is an initial exam, including imaging with our computerized topography (CT) scan. This technology allows Dr. Parr to visualize the internal structure of your jaw to determine bone density and plan for implants placement.
Dental implants candidates need a specific degree of bone density to hold the dentures securely in place. If needed, patients can undergo bone grafting to add volume to the jawbone. For patients who need a lower denture only, bone density is often less of a concern. In many cases, the lower teeth can be secured with two or three implants placed toward the front, where bone is naturally more substantial.
Dr. Parr and Dr. Frey provide bar-retained dentures for most patients. These include a thin metal bar that follows the curve of the jaw. The base of the denture appliance is placed over the bar and securely attached with strong clips. Another available option is ball-retained dentures, with ball-shaped implant attachments that snap onto matching sockets on the appliance.
Depending upon the number of implants and their location, you may be able to receive your new teeth the same day of surgery. If not, Dr. Parr or Dr. Frey can provide temporary teeth while your gums heal, a period of a few months. In some cases, he can modify your existing dentures to attach to your implants.
Your new dentures will be permanently attached, and removable by the dentist only. They are maintained with regularly brushing and professional cleanings. With proper care, your beautiful new teeth will last decades, or even a lifetime.