Root Canal Therapy
An ongoing toothache can be a warning sign of deep internal infection. Left untreated, it can eventually lead to tooth loss.
Our doctors at The Smile Center can perform a root canal treatment to relieve pain and restore the integrity of your tooth.
Worried about pain during a root canal?
Treatment Is ​Virtually Painless
and Can Prevent Tooth Loss
Avoid an Extraction
During a root canal, your doctor can remove infected tissue while preserving the healthy exterior of the tooth, often eliminating the need for a tooth extraction.
Prevent More Serious Issues
When left untreated, an infection can spread to surrounding teeth and gum tissue, as well as the jawbone. By addressing the infection early, we can restore your oral health and prevent the need for more complex and expensive treatments.
Despite Popular Belief,
Root Canals Involve Little Discomfort
In addition, patients in the study rated their average pain level as just 1.2 on a scale of zero to 10.
Root Canal Therapy Basics
The term, "root canal," creates anxiety in some patients, but the procedure is actually very tolerable for most. To keep you calm and comfortable, we offer relaxation techniques in addition to pain-relieving anesthetic. Please contact our office to request an appointment -- in most cases, we can offer same day treatment to meet an urgent need.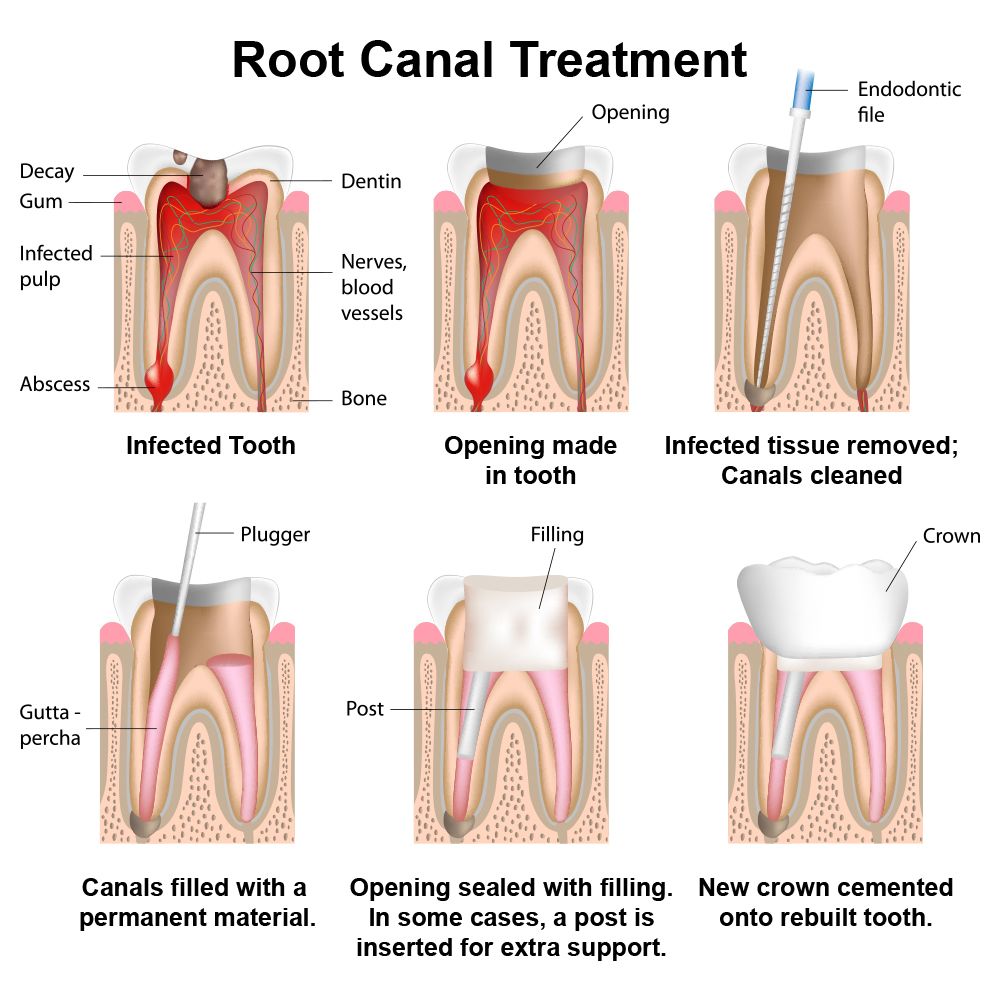 About Root Canal Therapy
A root canal, also known as endodontic treatment, is a very common, routine dental procedure. Essentially, the dentist will remove and replace infected tissue from the interior of the affected tooth, eliminating pain and potential need for extraction.
When bacteria from an untreated cavity reaches the soft, inner pulp of the tooth, an infection and painful abscess can develop. The infection lies in the inner chamber beneath the enamel and dentin, running from the center of the tooth to the bottom of the root.
If this condition is left untreated, the affected tooth will almost certainly require extraction. It is important to preserve an otherwise healthy tooth, if at all possible. Maintaining your natural teeth contributes to your health and well-being, preventing a host of potential future problems.
The Procedure at The Smile Center
Dr. Scott Parr and Dr. Tara Frey have performed hundreds of successful root canals for our patients in the Virginia Beach and Tidewater regions. The first step is an exam and diagnosis, which may include imaging with our in-office CT scan. The highly-detailed image allows the dentist to detect signs of infection in one or both chambers of the tooth.
Once the relaxation techniques take effect, the procedure will begin. Patients can expect to feel no pain at all during the root canal. The initial process includes cleaning away all diseased tissue, disinfecting, and reshaping the chamber to allow room for bio-safe filling material. As always, our practice is meticulous about safety and sanitation. To avoid any chance of reinfection, we take the extra precaution of using brand new rotary instruments for each patient.
The newly filled tooth is sealed and encased with a protective dental crown. The porcelain crown provides strength and support to the weakened tooth, so biting and chewing functions remain unaffected. Using digital CEREC® technology, we can create your beautiful crown right in our office. The shade matching technology is extremely accurate, creating a prosthetic that will blend with your natural teeth enamel.
Individual cases will vary, but often our root canal procedure is complete in a single office visit. Some patients experience minor tenderness for a few days, but this is easily managed with over-the-counter pain relievers. For most, the worst of the experience is the period before they came into the office for treatment, and the best news is, this dental work is permanent. With normal dental hygiene, you can expect your treated tooth to last as long as any healthy tooth.