Porcelain Veneers
Chips, stains, and other cosmetic flaws can be embarrassing and make you feel self-conscious about smiling in public.
At The Smile Center, we offer porcelain veneers to conceal imperfections in your smile for a more symmetrical and beautiful appearance.
So why should you consider dental veneers at our Virginia Beach, VA, office?
Porcelain Veneers Can
Dramatically Enhance Your Smile
Lifelike Materials
At The Smile Center, we use advanced dental porcelain which mimics the qualities of natural teeth to provide stunningly beautiful results without looking unnatural.
Versatile Smile Enhancement
Dr. Scott Parr and Dr. Tara Frey can use porcelain veneers to address a wide range of cosmetic issues, including gaps, chips, and stubborn staining.
Lasting Results
Despite being incredibly thin, our dental veneers offer remarkable strength. When properly cared for, veneers can last up to 25 years without serious damage.
Veneers
Provide a More Harmonious Smile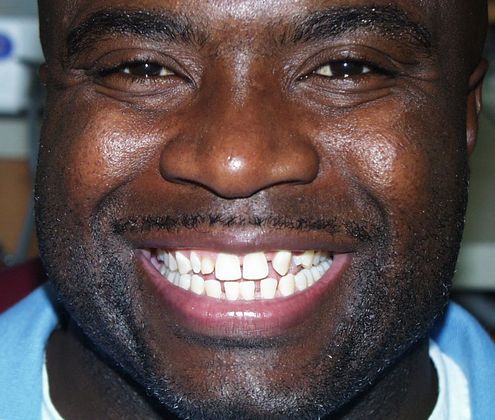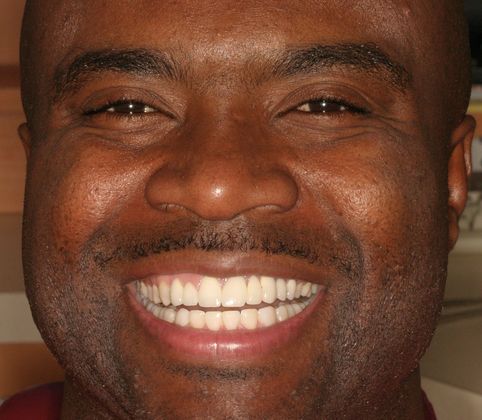 Veneers were used to close gaps and improve symmetry in this patient's smile.
If You Feel Self-Conscious,
You Are Not Alone
We Can Use Veneers
to Enhance Teeth That Are:
Veneers Can Conceal
Several Imperfections in Your Smile
A dental veneer is a thin shell of medical-grade ceramic which fits over the top of a tooth to conceal cosmetic flaws. In this way, a porcelain veneer can offer the same benefits of teeth whitening, a dental crown, and orthodontics all in a single treatment.
Each porcelain veneer we offer at The Smile Center in Virginia Beach is customized to suit the unique needs of the patient. We can personalize your veneer treatment plan to address the conditions you wish to hide.
We Are Dedicated
to Personalizing Our Treatments
One of the aspects of The Smile Center that makes it stand out among Virginia Beach competitors is our ability to provide highly individualized care. The necessary time and attention will be given during your consultation to ensure that your personal requests are taken into account and that your treatment plan reflects the results you would like to see. We will even provide you with a series of free before and after photos.
At The Smile Center,
We Truly Care
Nothing is more important to us than your comfort, safety, and satisfaction in your results. We strive to treat patients like family and offer free smile makeover consultations.
We Use Digital Technology
to Precisely Plan Your Treatment
At The Smile Center, we employ digital photographs and simulations to create a detailed plan for your porcelain veneers.
Using this information, we can accurately communicate the goals you wish to achieve to our dental lab. This attention to detail ensures beautiful results that fit naturally into your smile.
It Typically Takes
Two Visits to Receive Veneers
Our Virginia Beach practice is dedicated to placing your porcelain veneers with meticulous attention to detail and a gentle touch. You can rest assured that we will provide you with a relaxing, comfortable experience.
Caring for Your Smile

Can Prolong Your Results
Brushing at least twice a day and flossing daily are essential to maintaining your porcelain veneers. Routine checkups at The Smile Center in Virginia Beach will also keep your overall oral health in check.
Although veneers are stain-resistant, it is advised to avoid potential stain-causing substances such as tea, coffee, red wine, and tobacco. Additionally, avoiding biting hard objects like ice, pen caps, and your fingernails will ultimately increase the lifespan of your smile. Complete care instructions will be discussed in detail during your consultation.
We Can Create
Stunning, Natural-Looking Results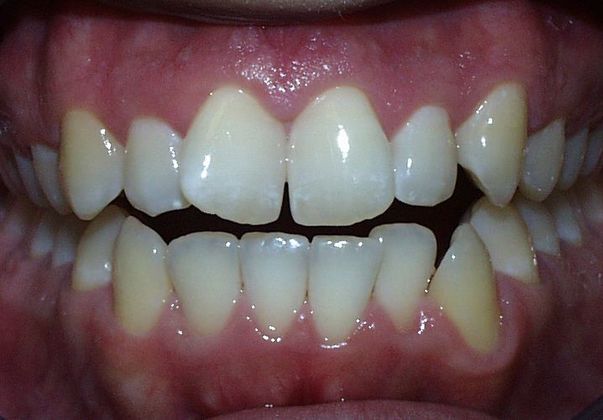 Modern Porcelain Veneers
Look Just Like Natural Teeth
In the past, veneers often ended up looking bulky, unnatural, or too perfect. At The Smile Center, we use state-of-the-art materials to create veneers that are virtually indistinguishable from natural teeth.
While your results will vary based on your goals, most of our patients end up with smiles that look brighter, more symmetrical, and more youthful than before.
The Smile Center is a fantastic practice!
"I had trauma to my upper front teeth that required veneers and implant surgery. After having the procedure done, I am more apt to smile, especially in pictures! I have always been self-conscious about my smile, but my procedure allowed me to overcome that fear. I would definitely recommend The Smile Center to anyone who has had a traumatic experience, or to someone who just wants to make a change."

Bryan M.
The Cost of Veneers
Can Vary Based on Your Goals
At The Smile Center, we typically charge per veneer. However, since we customize treatment for each patient, the overall cost of enhancing your smile with porcelain veneers will depend on multiple factors that we will discuss during a consultation. We are experienced in making life-changing treatments affordable and will work within your budget to find a solution.
We Can Help You
Understand Your Financing Options
Third-Party Financing
We work with a variety of third-party lenders offering flexible, low-interest repayment options for veneers patients.
Credit Cards
If you prefer, you can also use a credit card that offers generous points to cover the cost of your porcelain veneers treatment.
No sales pitch and upfront about the price!
"No one at The Smile Center tried to give me a sales pitch. Everything was right up front with the price, and with the research I had done, their prices were aligned with what I had found. No added costs or changes were added to my treatment!

With my new smile and veneers, my husband says he can't believe the confidence boost it has given me. The Smile Center definitely put a smile on my face, one that I'm proud to show off!" Lark K.
There Are a Variety of Ways
to Enhance Your Smile
At The Smile Center, we offer a range of cosmetic treatments which are designed to improve the aesthetics of your smile. We will listen closely to you unique concerns and goals during a consultation in order to recommend the best treatment plan.
We Can Help You
Find the Right Option for Your Smile
Dental Bonding
With dental bonding, Dr. Parr or Dr. Frey can use a tooth-colored composite resin to adjust the size, shape, or color of your teeth. This treatment may be a good choice for patients who do not want to permanently alter their teeth or do not have enough enamel for veneers. However, the results of bonding do not last as long.
Teeth Whitening
If you only want to change the color of your teeth, we offer both in-office and at-home teeth whitening to remove stains and brighten your smile. Whitening does not offer the same lasting effects as veneers and will likely require regular maintenance.
Orthodontics
At The Smile Center, we offer Invisalign as well as traditional orthodontics to address crooked and misaligned teeth. Orthodontic treatment takes longer than receiving porcelain veneers, but can adjust your bite as well as the cosmetic alignment of your smile.