Are You a Good Candidate for an Inlay or Onlay?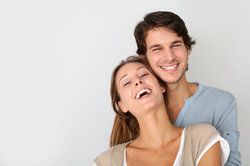 For many decades, traditional metal fillings performed their jobs perfectly well, preserving the remaining healthy structure of natural teeth that had been damaged by decay or trauma admirably, if not aesthetically. Restorative dentistry has come a long way in recent years, however, and it is no longer necessary to compromise aesthetics in order to salvage one's natural teeth. In fact, inlays and onlays - also known as "indirect fillings" - are virtually indistinguishable from natural tooth matter, and also give traditional metal fillings a run for their money in terms of strength and durability.
At The Smile Center in Virginia Beach, inlays and onlays candidates include most patients who would have been good candidates for traditional metal fillings. We provide these patients with all of the information they need about inlays and onlays, including honest comparisons between these modern restorations and their metal counterparts, so that they can make educated decisions about whether to proceed with treatment. We invite you to find out if you are a good candidate for an inlay or onlay by meeting with one of our esteemed dentists at our state-of-the-art office today.
What are inlays and onlays?
The top surfaces of your teeth have between one and five raised parts called cusps. Depending on whether the damage to your tooth occurs within these cusps or extends to one or more of these cusps, the damaged portion will be replaced with either an inlay or an onlay.
An inlay is custom crafted from medical-grade ceramic to fit with absolute precision within the cusps of a damaged tooth. Once it is bonded into place, it blends seamlessly into the tooth, fully restoring it in terms of function, appearance, and structural integrity.
An onlay differs only in that it extends onto the biting surface of the tooth, extending to at least one of the cusps.
Once in place, inlays and onlays can last for up to ten years or, in some cases, even longer with proper oral hygiene and regular dental visits.
Are you a suitable candidate for an inlay or onlay?
There is a good chance that if you are a candidate for a traditional metal filling, you are also a candidate for an inlay or onlay. As long as you have a sufficient amount of natural tooth structure to support a filling, then an inlay or onlay is a viable treatment option. You must, of course, be willing to observe proper oral hygiene habits, including proper brushing and flossing and twice-yearly visits to our practice for dental exams and professional cleanings, to ensure the longevity of your restorations.
If the damage to your teeth is too extensive for you to be a good candidate for an inlay or an onlay, then our dentists will most likely suggest a dental crown. A dental crown is also made from the finest materials and will be customized to blend perfectly into your smile, but will cover the entire visible surface area of your tooth.
Find Out Whether You Are a Suitable Candidate for an Inlay or Onlay
To learn whether you are a good candidate for an inlay or an onlay, please contact The Smile Center today.
Related to This