Invisalign vs. Braces: Which Choice Is Right for Me?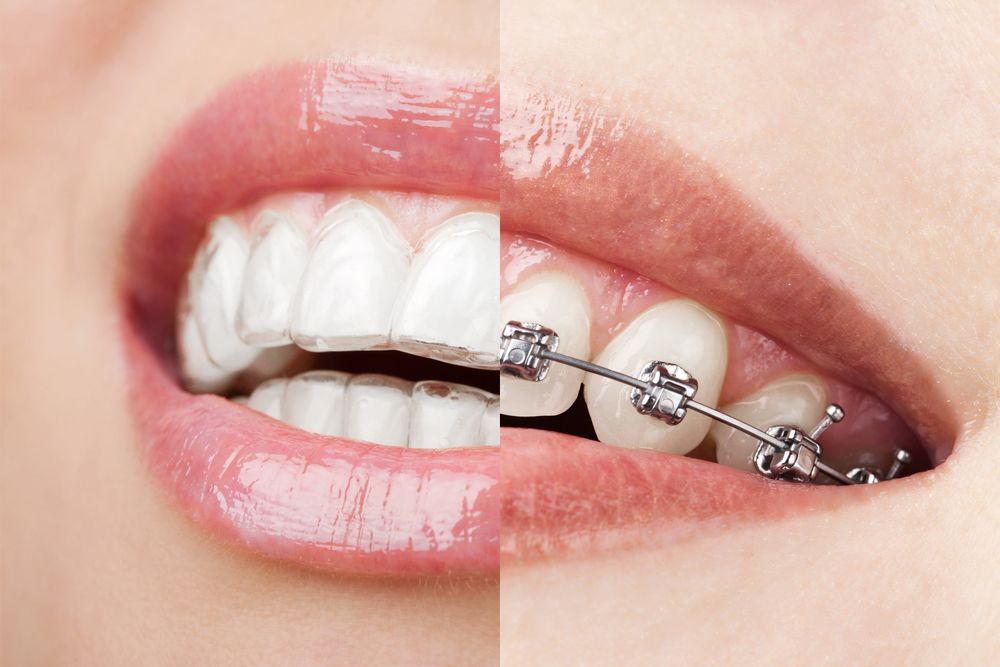 Traditional metal braces and Invisalign® can help patients have a more symmetrical and beautiful smile. When deciding which orthodontic treatment option is right for you, there are multiple factors to consider.
At the Smile Center in Virginia Beach, VA, Dr. Scott Parr and Dr. Tara Frey discuss Invisalign vs. braces so patients can better understand the benefits of each orthodontic option.
An Overview of Both Orthodontic Treatments
Traditional metal braces and Invisalign gradually move teeth into proper alignment but through different means.
The Wire and Bracket Method
Traditional metal braces use bands, wires, brackets, and other corrective appliances. The treatment process typically begins by using spacers to create small gaps between teeth.
Brackets are then placed on each tooth, and archwires are used to connect the brackets. The wires can be tightened or adjusted as needed to nudge specific teeth into better alignment. Once the braces have been placed, one of our dentists will periodically tighten the wires.
Clear Aligner Trays
Invisalign treatments are considered more discreet because the clear trays are less visible than metal braces. During your first visit to our office, digital images will be taken to precisely measure the position of your teeth.
Custom aligner trays will then be manufactured and sent to our office. Each tray is designed to be worn for 20 to 22 hours per day. The trays, which are changed every two to three weeks, are designed to slowly nudge teeth into proper alignment.
Benefits of Traditional Braces
Invisalign treatments are increasingly popular, but traditional metal braces still offer unique benefits. Patients with more severe crowding or bite issues may be better candidates for metal braces, for example.
Braces also offer our doctors the ability to fine-tune a patient's treatment by making minor adjustments along the way.
Braces may be a better option for children and teenagers due to the fact that they cannot be removed. Invisalign requires that children clean the trays daily while leaving the trays on for 20 to 22 hours a day. If a patient fails to follow this rule, complications and delayed cosmetic results may arise.
Benefits of Invisalign
The Invisalign aligners are considered more comfortable than metal braces.
Patients who use the clear trays do not have dietary restrictions. Invisalign trays are easily removable, meaning that patients have the option to choose which 20 to 22 hours per day are used for the treatment.
Many patients also appreciate the discreet nature of Invisalign trays, which are barely noticeable.
Which Treatment Is Right for Me?
There are multiple factors to consider when deciding between traditional metal braces or Invisalign. In the days and weeks before your appointment at our office, we recommend that you write down any questions that you may have about these orthodontic treatment options.
During your consultation at our Virginia Beach office, one of our doctors will discuss each option in detail.
A few of the questions you may consider include:
Which option works within my budget?
Will I have trouble committing to the 20- to 22-hour compliance rule for Invisalign?
Does the visibility of my orthodontic appliance matter to me?
What are the respective treatment timelines between the two options?
Will either option interfere with my daily activities?
Am I willing to have dietary restrictions throughout my treatment timeline?
Schedule Your Orthodontic Consultation Today
Once you have decided between Invisalign or braces, you will be well on your way to straighter, more attractive teeth. To schedule your orthodontic consultation, please contact our office online or call us in Virginia Beach at (757) 473-8482.
Related to This